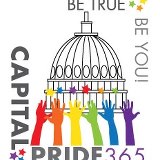 Capital Pride
is an annual event celebrating the spirit and strength in the Gay, Lesbian, Bisexual and Transgender (GLBT) communities in Washington, DC.
The event
brings together national and local LGBT organizations with more than 50 diverse educational and entertainment events. Capitol Pride invites the public to participate in its street festival and parade.
For a full schedule of events, see the
Capital Pride website
.
Dates:
May 29 - June 9, 2013.
Capital Pride Parade
Saturday, June 8, 2013
6:30 p.m. – 8 p.m.
Begins at 23rd and P St. NW, Washington, DC
Closest Metro Station is Dupont Circle
Capital Pride Street Festival
Sunday, June 9, 2013
11 a.m. - 6 p.m.
Pennsylvania Ave. between 3rd and 7th St. NW, Washington DC
Closest Metro Station is Archives/Navy Memorial/Penn Quarter
Holiday Inn Washington DC - Central/White House
is recently renovated, with
upgraded amenities
. You'll find impeccable service at one of the most
convenient locations
in Washington, DC. Modern hospitality and our friendly staff are eagerly awaiting your visit. The hotel is walking distance to monuments, museums, and the business district. Major attractions are only minutes away.
The Hotel is located at the northwest corner of 15th street & Rhode Island Avenue, NW.
Nearby Landmarks?
•6 blocks north of the White House.
•6 blocks north-west of the Washington DC Convention Center.
•4 blocks north of the McPherson Square -Vermont Ave./White House exit
•4 blocks south-west of Dupont Circle Station Metro Subway
Explore our site for more information about our excellent location and superior amenities. Reserve accommodations below
RATES AND AVAILABILITY FOR THE HOLIDAY INN WASHINGTON
DC
All information on Holiday Inn Washington-Central/White House is deemed to be accurate at the time we add it, and we take steps to verify all details and update our records when new information is provided, but as people, events and circumstances change, we caution users independently confirm all information.
(
Capital Pride Website
)