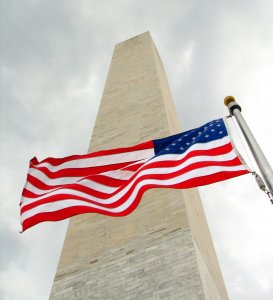 The Washington Monument

Visible from the Holiday Inn Central's rooftop pool and from some guest rooms.

The Washington Monument is the most prominent structure in Washington, D.C. and one of the city's early attractions. It was built in honor of George Washington, who led the country to independence and then became its first President. The Monument is shaped like an Egyptian obelisk, stands 555' 5 1/8" tall, and offers views in excess of thirty miles. It was finished on December 6, 1884


Visiting the Washington Monument
Admission to the Washington Monument is FREE but requires a ticket.
Extended Evening Hours Announced
The National Park Service has announced extended hours for the Washington Monument for Summer 2010. Starting on Monday, May 31, 2010, the Washington Monument will be open until 10:00 p.m.;

Visiting the Washington Monument
The Washington Monument is open daily except July 4 and December 25.
Summer Hours: 9:00 a.m. to 10:00 p.m. (May 31 - September 6, 2010), with the last tour beginning before 9:45 p.m.
Rest of Year: 9:00 a.m. to 5:00 p.m., with the last tour beginning before 4:45 p.m.
---
Washington Monument admission is free, but does require a ticket.
The Washington Monument Lodge, located along 15th Street, opens at 8:30 a.m. for distribution of free, same day, timed tickets on a first come first serve basis. One person may pick up as many as six tickets as well as select their preferred ticket time from what remains available for that operating day. All individuals (including children) must have a ticket.
During peak season, tickets run out quickly and the line for tickets forms at 7:00 a.m. or earlier; please plan accordingly.
If you wish to reserve tickets, you may do so by visiting the National Park Service ticket website at http://www.recreation.gov/tourParkDetail.do?agency=NRSO&parkId=77811, or by calling 1.877.444.6777 for individual tickets or 1.877.559.6777 for group reservations. There is a $1.50 service charge per ticket. These tickets may be picked up at the "will call" window of the Washington Monument Lodge on the day of your tour.
Please be aware that during the peak season of April-September, tickets frequently are reserved months in advance.
(
The Washington Monument homepage link
)