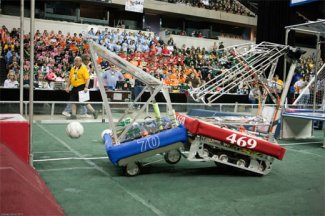 2013 Season First Robotics Competition aka ULTIMATE ASCENT: Washington DC Regional
March 28-30, 2013
Walter E. Washington Conv. Ctr.
801 Mount Vernon Place NW
Washington, DC 20001
This event is free and open to the public
The FIRST Robotics Competition
challenges teams of young people and their mentors to solve a common problem in a six-week time-frame using a standard "kit of parts" and a common set of rules. Teams build robots from the parts and enter them in competitions designed by Dean Kamen, Dr. Woodie Flowers, and a committee of engineers and other professionals.
The mission of First Robotics Competition is to inspire young people to be science and technology leaders, by engaging them in exciting mentor-based programs that build science, engineering and technology skills, that inspire innovation, and that foster well-rounded life capabilities including self-confidence, communication, and leadership.
Holiday Inn Washington DC - Central/White House
is recently renovated, with
upgraded amenities
. You'll find impeccable service at one of the most
convenient locations
in Washington, DC. Modern hospitality and our friendly staff are eagerly awaiting your visit. The hotel is walking distance to monuments, museums, and the business district. Major attractions are only minutes away.
The Hotel is located at the northwest corner of 15th street & Rhode Island Avenue, NW.
Nearby Landmarks?
•6 blocks north of the White House.
•6 blocks north-west of the Washington DC Convention Center.
•4 blocks north of the McPherson Square -Vermont Ave./White House exit
•4 blocks south-west of Dupont Circle Station Metro Subway
Explore our site for more information about our excellent location and superior amenities. Reserve accommodations below
RATES AND AVAILABILITY FOR THE HOLIDAY INN WASHINGTON
DC
All information on Holiday Inn Washington-Central/White House is deemed to be accurate at the time we add it, and we take steps to verify all details and update our records when new information is provided, but as people, events and circumstances change, we caution users independently confirm all information.
(
FIRST Robotics Competition
)